HIS Spirituality and Character Education
seeks to enable students to develop the qualities they need to serve as agents in God's Kingdom:
1. Christian Faith and Worldview
· To know that all people are sinners, but whoever believes in the death and resurrection of Jesus Christ, the Son of God, can be saved and become a child of God. .
· To acknowledge Jesus as Lord and follow Him as a disciple.
· To look at the world through the lens of creation, the fall, and redemption, and have a vision to enact change in the world.
· To understand and live out the gospel of God's Kingdom.
· To find their identity in Christ, and know their God-given character and calling.
· To be able to express their thoughts and feelings gently and clearly.
· To be able to understand and empathize with the thoughts and feelings of others.
· To be able to build up the community in knowledge and in practice.
· To be able to follow the example of Jesus and take up their cross so the community can be pleasing in God's sight.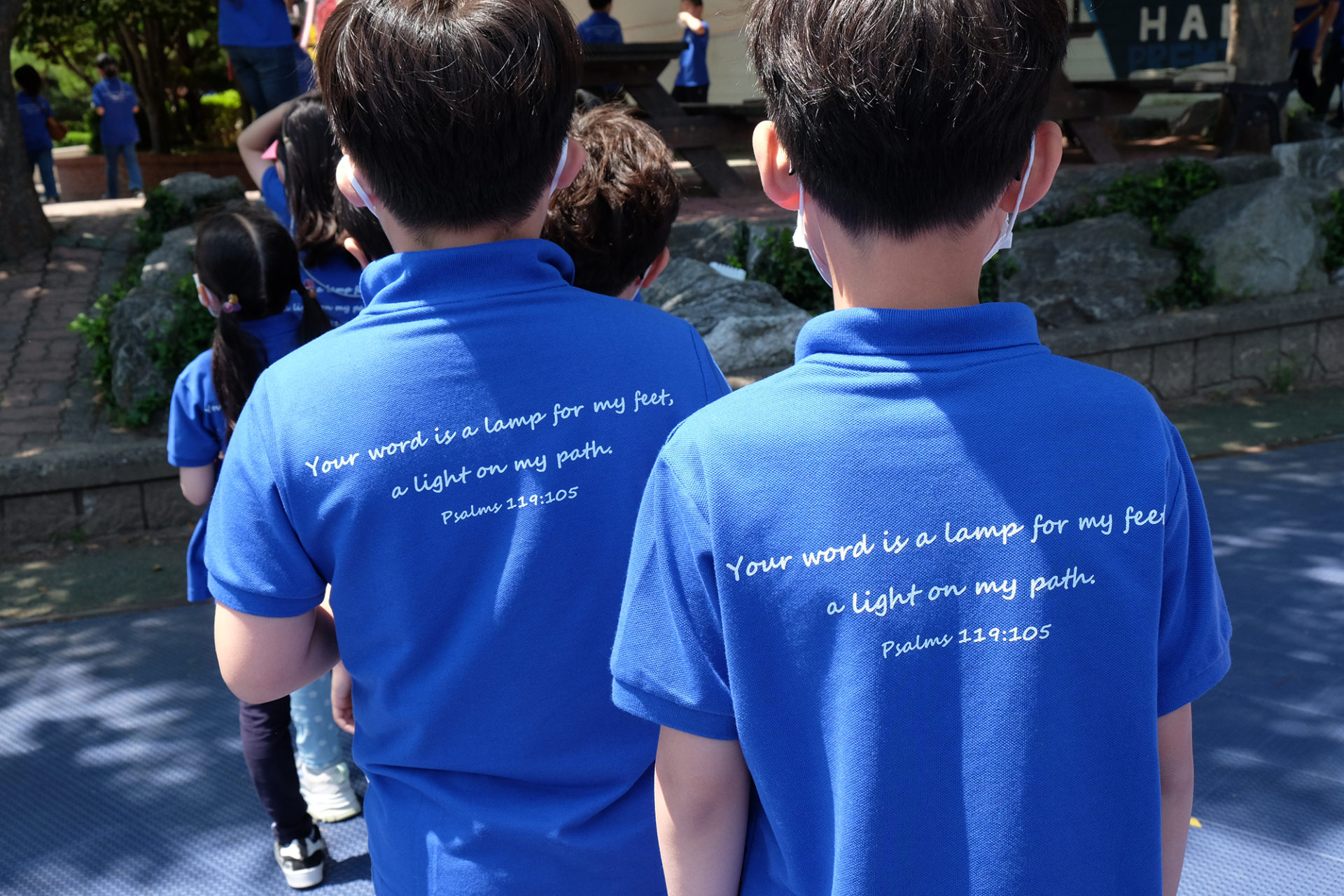 Elementary school spirituality and character education focuses on helping students become spiritually growing individuals, faithful stewards and balanced persons who give glory to God.
From Monday to Thursday, the first period of the day is devoted to Bible class. Bible class follows the ACSI (Association of Christian Schools International) curriculum and allows students to develop a strong biblical foundation.
Friday mornings start with worship. Students use their SOAP(Scripture, Observation, Application & Prayer) notes to record their Bible meditation and practice living out the Word.
All other subjects besides Bible are also taught through a Christian worldview.
The annual Bible Quiz and Bible Memory Contest encourages students to read and memorize Bible verses.
Students who join the Praise Team can pray and prepare for each chapel service, and lead the students in worship.
Character Goals are set monthly and taught in chapel and homerooms. A godly character trait is taught in chapel, and students discuss the lessons during homeroom time. Opportunities to practice character goals are provided in daily life through various activities.
Students who exhibit Character Goals are given character cards which are collected by the homeroom teacher. Homerooms that collect enough character cards receive rewards.
· Relationship-centered Character Education
Apart from classes or school activities, character education takes place in the relationships between students and teachers and fellow students. Students learn to love one another and to depend on God within the community.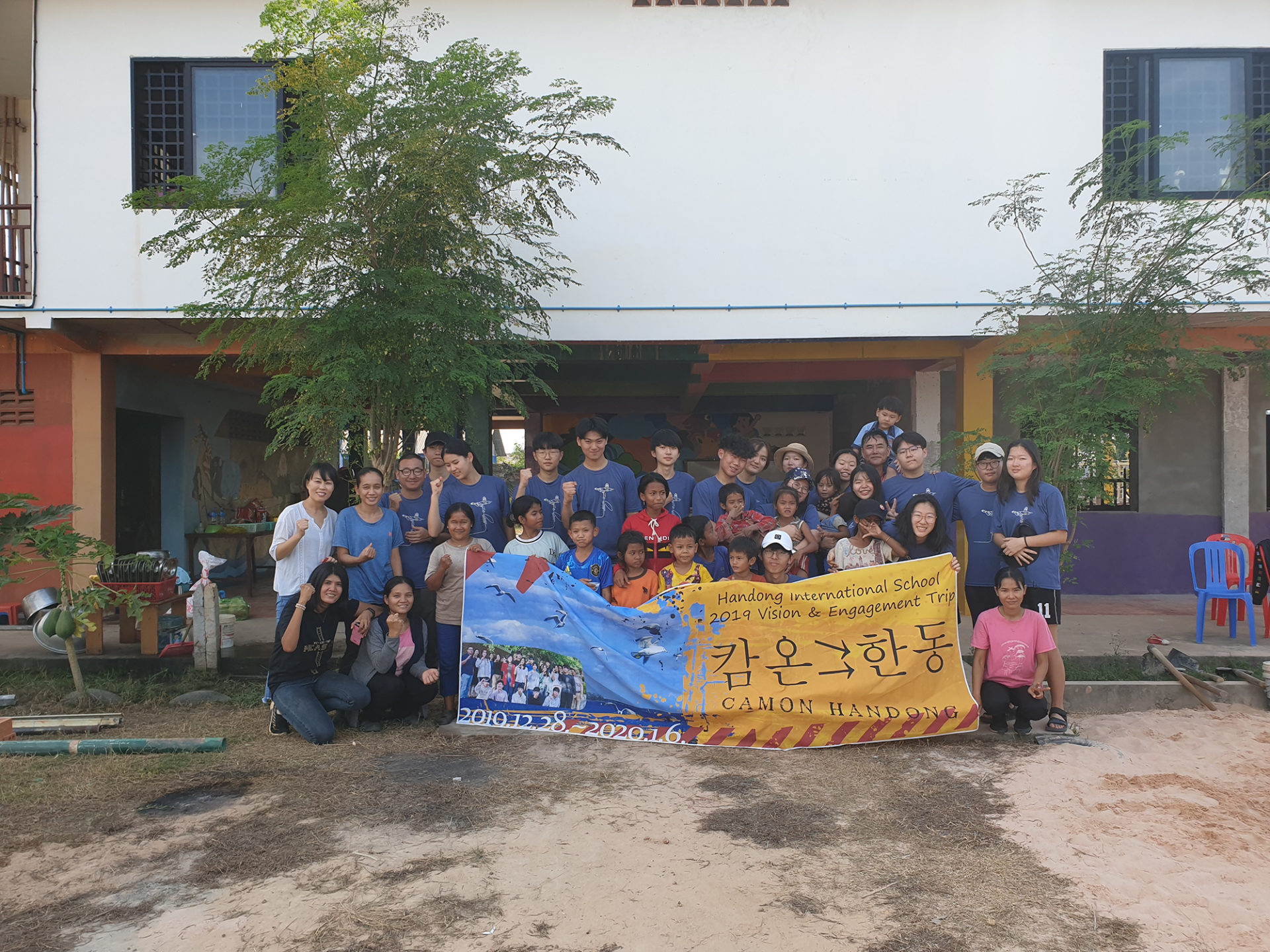 Middle and high school spirituality and character education seeks to allow students to experience the Kingdom of God within the community and to be able to share those experiences with others.
Bible classes are offered to all grades twice a week. In 7th grade, students learn Old Testament, 8th grade New Testament, 9th grade Biblical Interpretation, 10th grade Mission of God, 11th grade Christian Theology & Doctrine, and 12th grade Practical Theology.
Middle school and high school students have separate chapel services once a week.
Students begin each day with devotion time in their homerooms.
Teachers teach all subjects through a Christian worldview.
All HIS activities have a Biblical goal, and are prepared for with worship and prayer. The Student Council also prepares separate prayer meetings and services throughout the year.
· Praise Team and Christian Clubs
Students in the praise teams (separate for middle and high school) and other Christian clubs can participate in worship, Bible studies, or community service.
· Relationship-centered Character Education
Students learn to love and respect one another within the community through various community events (e.g. Camping Trip, Community Week, Variety Show, etc.) as well as through relationships with teachers and with fellow students.
When students violate school regulations, discipline is applied through Recovery education. Recovery Education follows the following steps: